Roberto di Paolo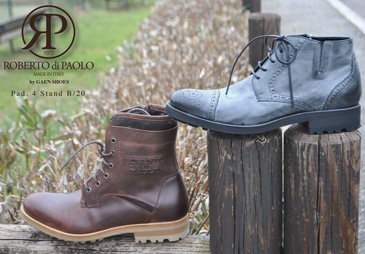 HISTORY
Roberto di Paolo takes his origins in the Marche Region, in 1910. Today the company has a strong and long lasting tradition of men's footwear. From its appearance to the first post-war period, the brand gets to be consolidated in the 60s, to the point that the then holder was awarded as "Cavaliere del Lavoro", a prestigious honor given to people who excel in the development of economy and commerce in Italy.
COMPANY
The Marche Region is one of the most beautiful Italian Region, rich in art, culture, creativity and traditions. This gives the territory a sort of charming unicity and creates the context where the perfect production model comes to the world. Footwear is here synonymous of harmony and perfection. The company, its traditions and art have been handed down from father to son for four generations. The future is regarded with confidence by the current owner: the aim of the company is to continue the production of high quality and fashion products, this will be possible thanks to the Master Shoemakers whose creations can be defined works of art.
BRAND
The Brand Roberto di Paolo is innovative with a unique design. Men's and women's footwear which distinguish themselves for the superior quality of the materials, the comfort, the style and the exclusive selected details.